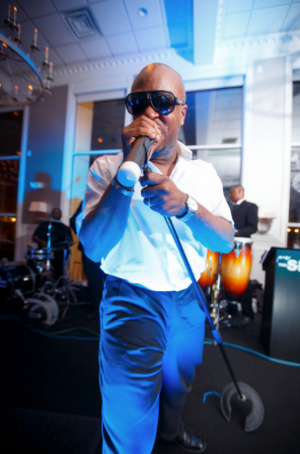 It is with the heaviest of hearts that we post the news that our MC, David Griffin(D-Griff), has passed away. Our band is a family and we have lost one our most beloved members. 
Griff was the heart and soul of this band. His passion, energy, and love for entertainment is a massive part of our success. His focus was always to give the audience a show that they will remember and talk about after we're gone. As one of the original members; Griff helped transform this band from a bunch of young college age musicians performing in small Cincinnati clubs to a 13 piece ensemble of top level musicians performing for National corporate brands and some of the premier events in the country. He mentored so many musicians in his lifetime, never hesitating to teach others what he had learned in this industry. The list of National acts he has worked with or produced is simply staggering. A larger than life performer that could entertain any crowd. 
As amazing a performer and producer he was, Griff was an even better father to his kids, son to his amazing mother, and friend to so many. Those that new Griff all had a special bond with him. He had this magical ability to form connections with everyone he encountered, putting them at ease with his humor and beautiful insight into living life to its fullest. We will all deeply miss his point of view and light hearted sense of humor backstage. 
We are devastated. Please keep Griff's family and the band in your prayers as we all navigate life without one of the most special human beings we have ever met.